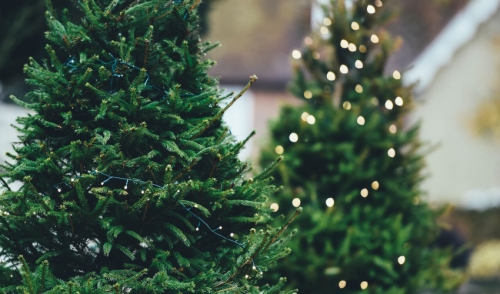 The largest debate regarding holiday trees breaks down into two camps: real versus artificial Christmas trees. The National Christmas Tree Association (yes, there is one!) reports some interesting figures on sales of these trees. In 2010, consumers purchased roughly 27 million real Christmas trees; outpacing artificial trees three times over (only 8.2 million artificial trees were sold). However, the average price paid by shoppers was nearly double for artificial trees ($64.61) than it was for real ($36.12). However, artificial trees can last around five to six years, so this cost is reduced when spread over time. A final tidbit is that the downturn in the economy does not seem to have affected these purchasing trends (data is listed since 2003)—it seems the tradition of picking out the family tree each year is here to stay!
How can you choose which tree is right for your family? Many naysayers jump immediately to the phony and fabricated look of artificial trees, which can be countered by the abundance of selection when it comes to this type. Artificial trees can range in cost from $50 to $1,500, which leads to an immense spread in quality; a helpful tip is to look at the branch count on a given tree—something with more branches will tend to look more realistic.
Artificial trees also win in the safety category. As real trees dry out over the course of the holidays, they become a fire hazard, particularly if placed near an electrical socket. On the other hand, most artificial trees are flame retardant, and artificial trees also greatly reduce the pesky mess left from flying needles, as they do not "shed."
A more traditional route is purchasing a real Christmas tree. Many families have turned their selection of a tree into a family ritual. In fact, of all real Christmas tree purchases in 2010, nearly one quarter were cut-my-own trees, purchased and chopped by the family at a farm. Beyond tradition, your choice to purchase a real Christmas tree does support the rural American economy (nearly 100,000 people are employed by the Christmas tree industry, while most artificial trees are fabricated abroad).
Finally, you may want to consider the environmental impact of artificial versus real trees. Advocates of artificial trees point to their re-usable nature, but these trees are almost always made of non-recyclable and non-biodegradable PVC. What's more, one real Christmas tree can absorb up to one ton of harmful CO2, while releasing oxygen as a bi-product. While real cut Christmas trees are likely the winner with regards to the environment, you can take this one step further this year by purchasing a potted Christmas tree and planting it in your yard or a local park this year!
In our minds, there are pros and cons for each type of Christmas tree—real or artificial, neither will put you on the naughty list this year, as long as your remember the decorative centerpiece that helps make the holidays special!